Samsung Galaxy Watch LTE review: Now, LEAVE your smartphone at home!
Samsung Galaxy Watch LTE review: Your thoughts on smartwatch? Probably that you don't need one. However, that is true only until you own it! Indubitably, some hesitate in buying a smartwatch thinking that it is a waste of money as a fitness band can do most things for a lot less. Others believe that it will add another unwanted screen to their lives, affecting their 'digital wellbeing' or, whatever is left of that. But, all of this changes when you slap a smartwatch on your wrist and, surprise, surprise, realise what all it can do – from tracking your steps, monitoring your sleep to receiving notifications and in case of Samsung Galaxy Watch LTE, which we are reviewing here, allowing you to make and receive calls.
Yes, that is the most important highlight of this new smartwatch launched by Samsung in India last month. Unlike most options available for Android smartphone users in the country, Samsung Galaxy Watch LTE allows you to make calls from within the watch with the help of eSIM. This means that you don't need a physical SIM card as used in Samsung Gear S.
Priced at Rs 28,490 for 42mm dial and Rs 30,990 for the 46mm dial size, the Samsung Galaxy Watch LTE also comes with 1.5GB RAM as opposed to 768MB on the Galaxy Watch along with the eSIM 4G LTE connectivity. With this new watch, Samsung aims to offer a true mobile connectivity experience. So, has the South Korean electronics giant been able to achieve that? Or, the Galaxy Watch LTE ends up as yet another screen in your life serving to further fuel your addiction? Let's find out what all is on offer in this Samsung Galaxy Watch LTE review.
Samsung Galaxy Watch LTE review: Design and Features
'Don't fix it if it ain't broke' is becoming one of my most used phrases and a strategy some brands are using for their products including Samsung, at least in case of Samsung Galaxy Watch LTE. The new watch borrows several design elements from last year's Galaxy Watch. It gives you a truly premium feel with rubber straps, top-quality display and a metallic finish under the dial.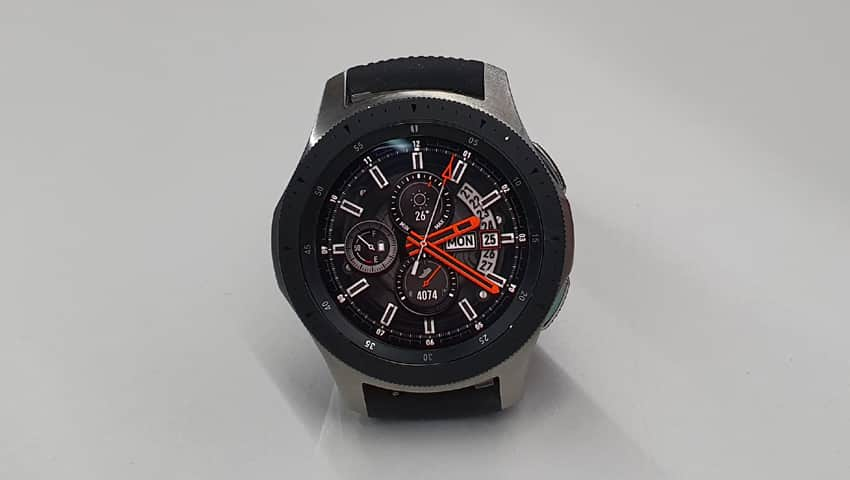 At first, the watch feels a bit heavy, probably because of the bigger display used on it but you are likely to get used to it after a few days of usage. There two buttons on the right side of the dial that allow you to control the watch. One of them can be used to go back to the previous screen while other takes you directly to the home screen. The frame is made from stainless steel and seems durable. At the back, Samsung has used thick plastic.
Inside the box you get a charging cable and port, the latter also acting as a cool stand for your watch.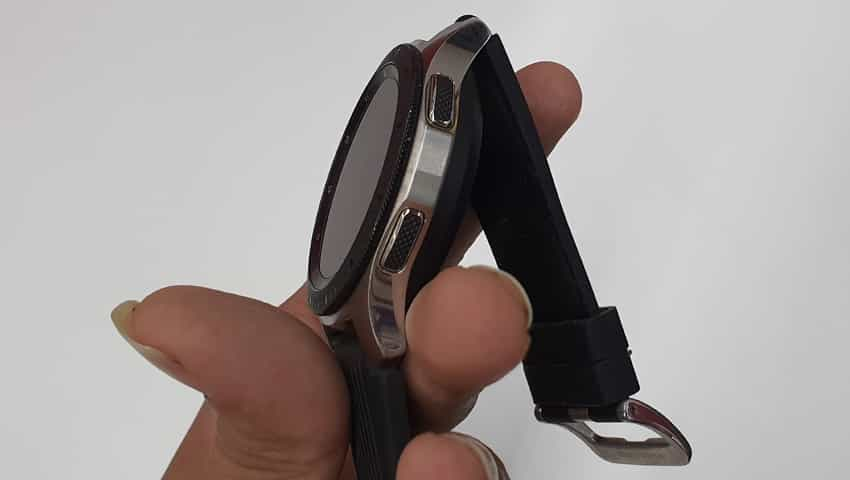 The Galaxy Watch LTE features a 1.3-inch super AMOLED display with 360x360p resolution on the 46mm model while the 42mm model gets a 1.2-inch panel. The bigger screen makes it easier to read the text on notifications and control the watch. The screen has a punchy colour reproduction and is quite bright even in direct sunlight.
On top of the display, you get Samsung's proprietary rotating bezel that aims to make UI navigation easier. This is also the coolest feature of this smartwatch. But, remember that scene from Guardians of Galaxy where Rocket asks Star Lord aka Peter Quill to steal a cellmate's leg in order to escape from the jail only to reveal later that he was kidding about it and they didn't actually need it? The bezel in this watch is that leg. You can do everything without it through touch but hey, where is the fun in that!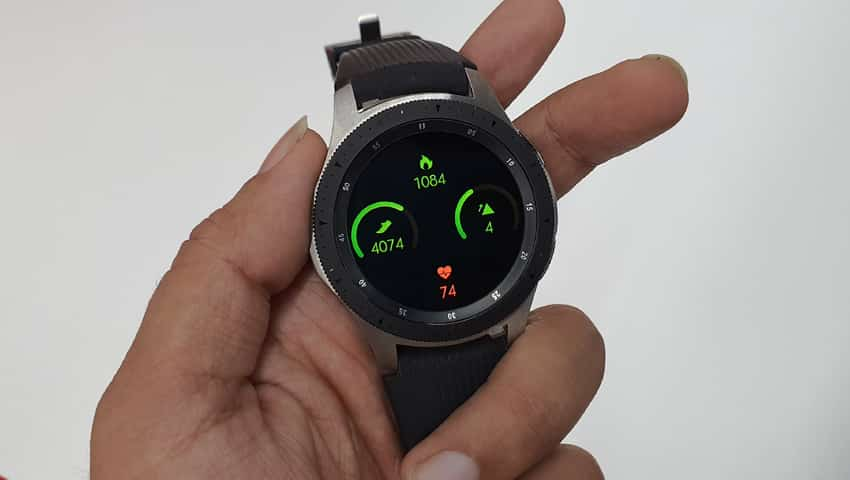 The Samsung Galaxy Watch LTE runs Tizen OS 4 with One UI skin on top. It can be used on smartphones running Android 5.0 and above or iOS 9.0 and above. You can also use the watch to control other smart gadgets at your home through SmartThings platform. For example, you can turn on and off the lights, TV, AC, heater, etc.
Samsung Galaxy Watch LTE review: Performance and Connectivity
To run the Samsung Galaxy Watch LTE, you need a few apps on your smartphone. In case you are already using a Samsung smartphone, the process is a lot easier and can be completed through the Galaxy Wearable and Samsung Health apps. For other Android smartphones, the app will guide you to download a few other things and complete the setup.
With this watch, Samsung wanted to offer a gadget that helps you achieve health goals, answer calls, respond to text messages, use GPS mapping, stream music and more, all from the wrist. The idea here is that you are not forced to take the smartphone out of your pocket for every little thing. And, the Galaxy Watch LTE solves the issue to a large extent.
You can give access to apps from your smartphone and receive all emails, WhatsApp messages and other notifications on the watch itself. The benefit of having eSIM connectivity is that you can also reply to these messages from the watch itself. However, this is effective only in case of quick replies as typing from the watch can be a little time consuming. But, then at least you don't miss out on any important message, email or call even if you are away from your smartphone or if it runs out of battery. This is one of the benefits of having an eSIM. Even if your smartphone is dead, switched off or on airplabe mode, you will get the calls on the watch…Read more>>
Source:-zeebiz 
Share: