Aadhaar-PAN Linking: Last Date, How To Do It
Aadhaar is to be mandatorily linked with PAN or Permanent Account Number card by March 31, 2018. In December, the government extended by three months a deadline for taxpayers to link their Aadhaar number – the 12-digit Unique Identity Number (UID) issued by the Unique Identification Authority of India (UIDAI) – with PAN. The Income Tax Department notified a new deadline of March 31, 2018 for PAN-Aadhaar linking. The March 31, 2018 deadline coincides with the last date set by the Supreme Court for mandatory linking of Aadhaar with various services and welfare schemes, including mobile phone (SIM).
Besides, March 31, 2018, is also the last date to link insurance policies and mutual fund holdings. The taxman cited some taxpayers who hadn't yet linked PAN with Aadhaar as the reason behind its move to extend the deadline by three months to March 31, 2018.
How to link Aadhaar card with PAN card
Aadhaar can be linked with PAN using either of two methods: SMS and online.
PAN-Aadhaar linking via SMS
Aadhaar can be linked with PAN through an SMS service. Users can avail the service by sending their Aadhaar and PAN number through an SMS to 567678 or 56161 in the following format:
UIDPAN <12-digit Aadhaar> <10-digit PAN>
PAN-Aadhaar linking online
Alternatively, Aadhaar can be linked with PAN online. An online facility provided by the Income Tax Department on its e-filing website – incometaxindiaefiling.gov.in – enables users to link their PAN with Aadhaar.
To avail this facility, visit Income Tax Department's e-filing website. Once on the incometaxindiaefiling.gov.in website, find and click on the 'Link Aadhaar' link.
On the next page, the user is required to fill in details of PAN, Aadhaar and name in the respective fields and hit 'Submit'.
"Enter Name Exactly As Given In Aadhaar Card (avoid spelling mistakes) and submit. After verification from UIDAI, the linking will be confirmed," says the tax department.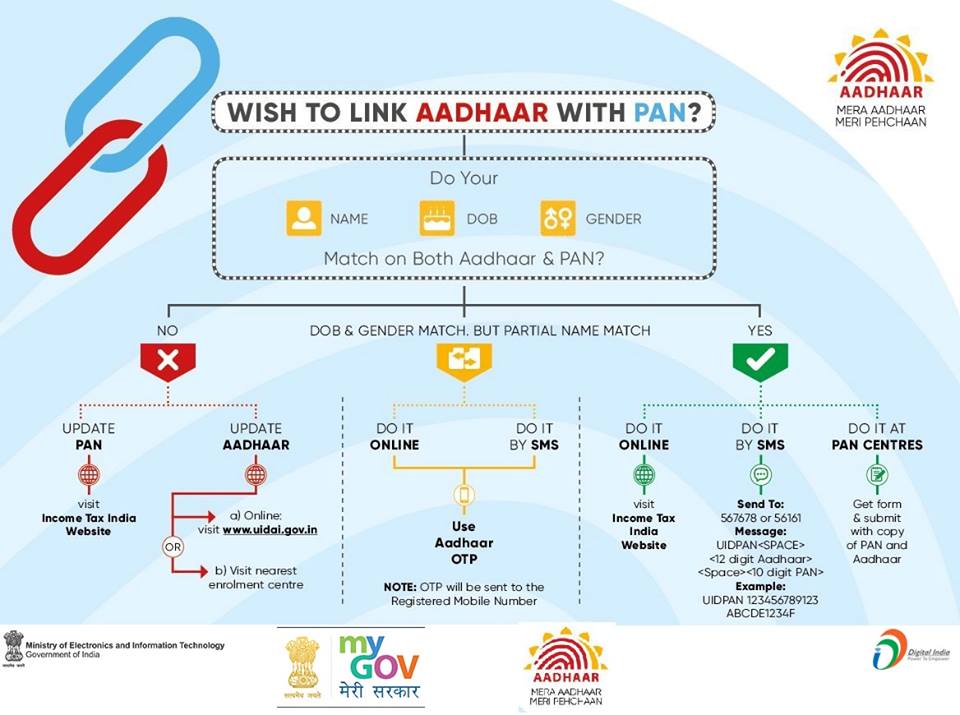 The above two methods are prescribed by the UIDAI can be taken up in case the details given on PAN match with those on Aadhaar. However, different ways have been advised in case any of the individual's details given on the cards don't match.
Source by  ndtv..
Share: